Bulletins
June 30, 2019
Download the Bulletin as a PDF
Welcome, Reverend Joseph Rampino!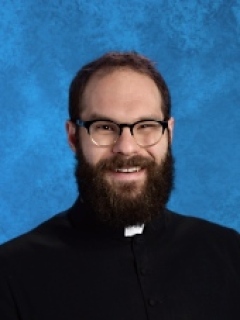 Since his ordination to the priesthood on 11 June 2016, Fr. Joe Rampino has served as a parochial vicar at Blessed Sacrament Catholic Church in Alexandria. As of this past Thursday, June 27 he is the new chaplain at Marymount University. With the new assignment comes a new place to hang his hat… and his guitars: the rectory of St. John the Beloved.
Father achieved YouTube fame when in 2016 as a deacon he was chosen to chant the Exsultet at the Easter Vigil in St. Peter's Basilica for the Holy Mass celebrated by Pope Francis. You can watch him here replete with commentary in Portuguese.
From the pages of the Arlington Catholic Herald we learn that Father grew up in a U.S. Air Force family. Like all military children, he moved from state to state every few years. The seeds of his vocation were sewn in his Catholic family where Mass was a source of stability in a life full of transitions. During high school, he attended youth group at Holy Spirit Church in Annandale, giving him great availability to the sacrament of confession. His time at Holy Spirit was also the beginning of learning how to pray in front of the tabernacle. After high school, he attended St. Charles Borromeo Seminary in Philadelphia for four years and spent another four years in Rome at the Pontifical North American College. And now he is here.
God bless Marymount University and its new chaplain!
Fr. Christopher J. Pollard
"Jesus Christ is the same yesterday and today and forever." (Heb 13,8)