2021-2022 Religious Education Registration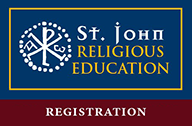 Registration is now open for Children's faith formation for the 2021-22 school year. Sessions for all grades (K - 8) will take place on Tuesday evenings from 6:30-8:00pm.The registration fee is $125/student.
In Testimonium...
13 June
11th Sunday in Ordinary Time
3rd Sunday after Pentecost
The ordinary life of Christians after the event of Pentecost is extraordinary and glorious.
"For the Christians are distinguished from other men neither by country, nor language, nor the customs which they observe. For they neither inhabit cities of their own, nor employ a peculiar form of speech, nor lead a life which is marked out by any singularity. The course of conduct which they follow has not been devised by any speculation or deliberation of inquisitive men; nor do they, like some, proclaim themselves the advocates of any merely human doctrines. But, inhabiting Greek as well as barbarian cities, according as the lot of each of them has determined and following the customs of the natives in respect to clothing, food, and the rest of their ordinary conduct, they display to us their wonderful and confessedly striking method of life.
Sacraments in Unusual Places
Holy Communion can be received in the vestibule after any and every Mass. Outdoor speakers permit you to listen to Mass without coming inside. Our priests can bring you Holy Communion at home as well.
Confessions
are taking place among the pews in the rear of the church near the Divine Mercy image. On Saturday mornings and afternoons confessions are heard both in the Church and in the upper Parking Lot near the gymnasium. If you desire Confession at a time other than during those hours listed above, please feel free to call the rectory emergency line 703-835-2808 to request a confessor to meet you in church or in the parking lot.
Neighbors in Need
Many parishioners have volunteered to help deliver groceries or otherwise render assistance to neighbors who are not able to leave their homes. Please call the parish office either to alert St. John the Beloved about someone who needs help or to volunteer.
Eternal rest grant unto them...
Michael Mutersbaugh
Fr. Michael Kelly, SJ
Don Rasmussen
Celina Robles
Margaret Leese
Mary Cermak
Jose Sorzano
Christopher Monek
Elsie Balcaen
Pat Kelly
Joseph Ahearn
Donald Arndt
Kristin Kazyak