2021-2022 Religious Education Registration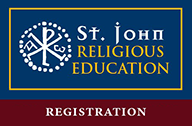 Registration is now open for Children's faith formation for the 2021-22 school year. Sessions for all grades (K - 8) will take place on Tuesday evenings from 6:30-8:00pm.The registration fee is $125/student.
In Testimonium...
25 July
17th Sunday in Ordinary Time
9th Sunday after Pentecost
Ordinary Form
2Kings 4,42-44 1
Psalm 145,10-11.15-16.17-18
Ephesians 4,1-6
Luke 7,16
Extraordinary Form
Corinthians 10,6-13
Psalm 8,2
Luke 19,41-47
Psalm 18,9.10.11.12
John 6,1-15
25 July
Feast of St. James the Greater, Apostle
Feast of St. Christopher
World Day for Grandparents and Elderly
The Institute for Marital Healing in Conshohocken, PA, offers a wealth of resources online for spouses and parents. Their webpage provides the following chapters under the heading of "Marital and Family Conflicts" to assist in uncovering and resolving major emotional and character conflicts through using empirically proven therapies, including virtuebased marital healing.
Sacraments in Unusual Places
Holy Communion can be received in the vestibule after any and every Mass. Outdoor speakers permit you to listen to Mass without coming inside. Our priests can bring you Holy Communion at home as well.
Confessions
are taking place among the pews in the rear of the church near the Divine Mercy image. On Saturday mornings and afternoons confessions are heard both in the Church and in the upper Parking Lot near the gymnasium. If you desire Confession at a time other than during those hours listed above, please feel free to call the rectory emergency line 703-835-2808 to request a confessor to meet you in church or in the parking lot.
Neighbors in Need
Many parishioners have volunteered to help deliver groceries or otherwise render assistance to neighbors who are not able to leave their homes. Please call the parish office either to alert St. John the Beloved about someone who needs help or to volunteer.
Eternal rest grant unto them...
Christopher Monek
Elsie Balcaen
Pat Kelly
Joseph Ahearn
Donald Arndt
Kristin Kazyak
Paul Ruggera
Carmela Manetti
Stephen Vricella
Bobby Willis
Joan Gibbons
Marie Shaughnessy
Peter Dannenberg