Special Collection for Louisiana Flood Victims, Sept. 3-4
As you know, parts of Louisiana have been experiencing major flooding in the past two weeks in what is being called the worst domestic natural disaster since Hurricane Sandy. As many as 60,000 homes have been damaged, and nearly 20,000 people have been rescued from the flood waters. Twenty Louisiana parishes (counties) have been declared federal disaster areas. In light of the devastation and human misery resulting from this flooding, the USCCB has called for an emergency collection to assist the victims.
We ask that parishes take up this collection on the weekend of September 3-4. The funds raised will be used to support the humanitarian efforts of Catholic Charities USA and to provide pastoral and rebuilding support to impacted dioceses.
Our hearts and prayers go out to the families that have lost loved ones, and to all those living in communities who have lost homes and businesses, along with their sense of security. We also stand with those who are providing pastoral care in these trying times, while simultaneously managing their own losses. Our prayers and material support are urgently needed to help rebuild lives.
Many thanks for your assistance in this effort.
In Christ,
Mark Herrmann
Chancellor
Catholic Diocese of Arlington
Youth Ministry Starts Up Soon
I know I just arrived but already I can tell what an amazing parish St John the Beloved is. It's strong. It's vibrant. It's devout. I realize even more now how blessed I am to be given the opportunity to work here. Thank you for your warm welcome and I look forward to meeting more of you in the near future.
Please look at the Youth Ministry Page for information about our start-of-the-year events.
SAVE THE DATE FOR OUR ANNUAL FALL FESTIVAL SEPTEMBER 23 & SEPTEMBER 24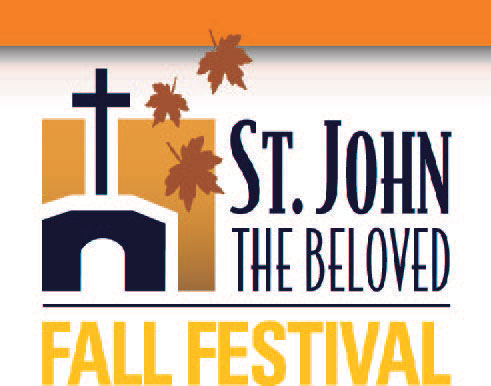 The annual Parish Fall Festival will kick off on Friday, September 23rd. Plan to join your fellow parishioners for a Louisiana Shrimp Boil, Jambalaya, a live Zydeco Band, a beer and wine garden, and movies for the kids. Saturday, September 24th will feature Father Pollard's famous BBQ brisket, ribs and pulled pork, hot dogs, hamburgers and fabulous side dishes, as well as, kids rides, games, and crafts. Fun for the entire family!
In Testimonium...
August 29
Feast of the Martyrdom of St. John the Baptist
Year of Mercy Confessions
Beginning on December 2 during the first Week of Advent, the priests of St. John the Beloved will be hearing extra confessions on Wednesdays. On the hour every hour between 10 a.m. and 6 p.m. a priest will be in the confessional and stay as long as there are penitents. One day we will have green lights to indicate an available confessor. In the meantime please look for the white light glowing through the window.
Eternal rest grant unto them...