Spiritual Initiatives for Lent from Formed
Watch, Read, and Reflect for 10 Minutes a Day
Lenten Reflections Direct to Your Inbox
Watch a beautiful video reflection from Ahava Productions' ECHO series, featuring Bishop Hying
Read an inspiring passage from the Catechism
Reflect on how God's truth applies to your daily life

Join us for a 4 week video-based study featuring the Augustine Institute original productions of Symbolon and Forgiven: The Transforming Power of Confession.
A Lent to Remember is a beautiful presentation of the transforming power of mercy in the Sacrament of Confession. No matter what you have done, no matter how long you have been away, Jesus is waiting for you with open arms this Lent!
Week One: 5:00 p.m. Sunday, February 18th in the Adult Ed Room
Forgiven: Where Are You?
Week Two: 5:00 p.m. Sunday, February 25th in the Adult Ed Room
Forgiven: An Encounter with Mercy
Week Three: 5:00 p.m. Sunday, February 18th in the Adult Ed Room
Forgiven: Embraced in Mercy: The Rite Explained
Week Four: 5:00 p.m. Sunday, February 18th in the Adult Ed Room
Symbolon: The Paschal Mystery
Bonus Episode: For Children
For Children: How to Make a Good Confession
Click here to view the sessions
Join us for a 6-week small-group retreat in preparation for Marian Consecration. This retreat is based on the popular book by Fr. Michael Gaitley, 33 Days to Morning Glory.
Gain new insights into Marian Consecration, learn how key saints and blesseds lived it out, and discover how you can live it out as well.
Easy as 1-2-3!
1. READ
Read the select readings in the Retreat Book.
2. PONDER
Ponder the daily reading and questions in the Retreat Companion.
3. MEET
Meet regularly with your group at 2:00 p.m. Saturday afternoons of Lent in the Adult Ed room with Fr. Pollard.
Our 33 Days in preparation for Total Consecration begin Ash Wednesday. Consecration will take place on St. Joseph's Solemnity (March 19th).
St. John the Beloved Lent 2018
Friday Soup Suppers
6:00 – 7:00 p.m. Friday Evenings
(beginning February 16)
Volunteers are needed! Please sign up here to help with cooking, set-up, serving, or clean up.
Soups for February 16th: Vegetarian Chili and Crab Corn Chowder.
Friday Stations of the Cross
2:15 p.m. Friday Afternoon
"Stations of the Cross for St. John Academy"
(beginning February 16)
7:30 p.m. Friday Evening
"Way of the Cross"
with Text from Sacred
(beginning February 16)
Sunday Solemn Vespers
4:00 p.m. Sunday Afternoon
St. John the Beloved will celebrate Solemn Vespers in the Church every Sunday during the Lenten Season. Solemn Vespers takes place in the presence of the Blessed Sacrament enthroned on the altar, includes a homily after the reading and concludes with Benediction. Come join in the official Evening Prayer of the Church.
Inaugural Saints Joseph and Patrick Feast, March 17th 6:00 p.m.
It will be the Italians facing off with the Irish in a cook-off challenge, sign up with the details of your entry today! You may enter a main dish or dessert for the contest.
Calling all Italians! Don't let the Irish win. Bring your favorite dish to St John's Inaugural St. Joseph/St. Patrick Feast Day on March 17th at 6:00 p.m.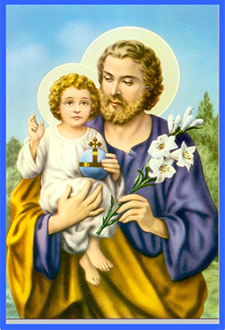 Calling all Irish! Bring your cooking and decorating talents to St John's Inaugural St. Patrick/St. Joseph Feast Day on Saturday, March 17th at 6:00 p.m.
Sign up today: https://www.SignUpGenius.com/go/30E054EA8A62A1-saint
Eucharistic Miracles of the World
Adorers are Needed on Wednesdays
There is a new online system to sign-up for Wednesday Eucharistic Adoration created for those who are not able to commit to a regular hour every Wednesday. Please prayerfully consider offering one or more hours of Adoration before Our Lord each month at a time that is best for you. Note: If you are a regular scheduled Adorer, you do not need to sign up. Please continue to come at your set time. To schedule a time please go to the following website: http://www.stjohncatholicmclean.org/adoration
Vocations Crucifix Program
The Vocations Crucifix program is a wonderful means of fostering prayer and devotion among our parish families, the seed beds of vocations. The Crucifix reminds each host family that they share in the responsibility to pray for and encourage vocations to the priesthood, diaconate, consecrated life and marriage. The purpose of the Vocations Crucifix is to provide a focal point of prayer for each family member to gather each evening and pray for their children's vocations. Please call the Parish Office to sign up and take the Crucifix home for a week.
In Testimonium...
"Meditation on Death" continued
The Imitation of Christ, Chapter 23
by Thomas á Kempis
(c. 1380 – 25 July 1471)
Do not rely on friends and neighbours, and do not delay the salvation of your soul to some future date, for men will forget you sooner than you think. It is better to make timely provision and to acquire merit in this life, than to depend on the help of others. And if you have no care for your own soul, who will have care for you in time to come? The present time is most precious; now is the accepted time, now is the day of salvation. (2 Corinthians 6:2) It is sad that you do not employ your time better, when you may win eternal life hereafter. The time will come when you will long for one day or one hour in which to amend; and who knows whether it will be granted?
Eternal rest grant unto them...