In Testimonium...
That special prayer for peace
"Lord Jesus Christ, who said to your apostles 'Peace I leave you my peace I give you' look not on our sins but on the faith of your Church and graciously grant her peace and unity in accordance with your will, who live and reign for ever and ever. Amen."
"presupposes the kiss of peace" according to Fr. Jungmann.
Remember that in the Extraordinary Form of the Mass the priest prays it in a low voice immediately after the Pax Domini and Agnus Dei and in the Ordinary Form of the Mass he prays it out loud directly after the Pater Noster and just before the Pax Domini
Vocations Crucifix Program
St. John the Beloved is reinstating a Vocations Crucifix Program. It is a wonderful means to foster prayer and devotion among our parish families. The Crucifix reminds each host family that they share in the responsibility to pray for and encourage vocations to the priesthood, diaconate, consecrated life and marriage. There will be two Crucifixes, one for St. John Academy families, and the other for CCD/Homeschooling and other parish families. Each family will take the Crucifix home for a week and pray each evening as a family for vocations.
The sign up for St. John Academy families is: www.SignUpGenius.com/go/70A0A4FA5AE28A46-vocations.
The sign up for CCD/Homeschooling and other families is: www.SignUpGenius.com/go/70A0A4FA5AE28A46-vocations1.
If you're unable to use the sign up genius, please contact Ann Francis at [email protected] or 703-534-6570.
Is America Still the Land of the Free?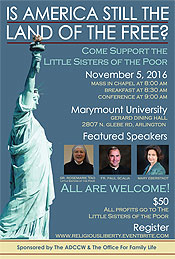 November 5, 2016
Mass in Chapel at 8:00 am
Breakfast at 8:30 am
Conference at 9:00 am
Marymount University
Gerard Dining Hall
2807 N. Glebe Rd
Arlington, VA
Featured Speakers:
Sr. Rosemarie Yao, Little Sisters of the Poor
Fr. Paul Scalia
Mary Eberstadt
Register at www.religiousliberty.eventbrite.com
Cost: $50. All profits go to The Little Sisters of the Poor Featured Speakers
Presented by The Arlington Diocesan Council of Catholic Women
EVENING REFLECTIONS FOR WOMEN 2016-2017 Series
"Feminine Genius in the lives of Saints"
Stories and examples of the Feminine Genius in the lives of Saints and how we can apply the same to our lives today. Guest speaker: Mary Ellen Bork
MONDAY, NOVEMBER 7th
7:00pm Social
7:30pm Talk
In the Parish Hall
Sponsored by St. John the Beloved Women's Council. Please RSVP to: [email protected]
37th Annual Christmas Bazaar
Saturday, November 19th, 9:00 a.m. - 3:00 p.m.
in the School Gymnasium
One day only! Don't miss this annual event featuring live music, amazing food, and wonderful shopping. And don't forget the bake table! We'd love to have your specialties this year, so break out those secret recipes. Volunteer to help at the event through our link at signupgenius.com. For more information email us at [email protected] or call Danielle Aguilar at (202) 487-9086.
What a great way to start your Christmas shopping! A portion of the proceeds goes to benefit African orphans in Zambia.

Live Music:
Victorian Carolers
McLean High School Orchestra
The Evergreens
Featuring:
Oak Lane Soapworks
Refinished with a Twist
The Jammerie
Blu Gnu Gift Baskets
Mod Jules Engraved Jewelry
Greek Super Foods
Dress It Up Dressing
Cardone Studios Ceramics
Eve+Belle Christmas Ornaments
Sacred Art
Religious Jewelry
Discovery Toys & Usborne Books
Chef du Jour
Hand Knit Hats, Scarves, Baby Items and more!
Year of Mercy Confessions
Beginning on December 2 during the first Week of Advent, the priests of St. John the Beloved will be hearing extra confessions on Wednesdays. On the hour every hour between 10 a.m. and 6 p.m. a priest will be in the confessional and stay as long as there are penitents. One day we will have green lights to indicate an available confessor. In the meantime please look for the white light glowing through the window.
Eternal rest grant unto them...