HAPPY EASTER
"Do not be afraid; for I know that you seek Jesus who was crucified. He is not here; for he has risen, as he said. Come, see the place where he lay. Then go quickly and tell his disciples that he has risen from the dead" (Mt 28,5b-7a).
EASTER SCHEDULE
Easter Sunday, April 20

7:30 a.m.
Mass
9:00 a.m.
Mass
10:30 a.m.
Mass
12:15 p.m.
Solemn High Traditional Latin Mass
EASTER MESSAGE OF OUR HOLY FATHER FRANCIS
What do you think His Holiness will say?
Click here after 12:00 Noon Rome time on Easter Sunday to find out.
PASTORAL LETTER BY BISHOP LOVERDE
Bought with a Price:
Every Mans' Duty to Protect Himself and His Family From a Ponrnographic Culture
Upon release of the letter, Bishop Loverde said, "In my fifty years as a priest, I have seen the evil of pornography spread like a plague throughout our culture. As part of my responsibility to lead all the people in the Diocese of Arlington to the vision of God, I find it necessary now to address the tremendous moral, social, and spiritual dangers of pornography." In the letter, Bishop Loverde addresses: The nature of the current threat of pornography; The arguments put forward by those who attempt to rationalize pornography; The offering of concrete counsel to all Christians, young people, couples, and priests and the gift of sight and its fulfillment in divine contemplation.
Virginia Catholic Conference
Virginia Bishop file amicus brief in Federal Court of Appeals
The Virginia Catholic Conference, representing Bishop Francis DiLorenzo of Richmond and Bishop Paul Loverde of Arlington, filed an amicus curiae brief with the U.S. Court of Appeals for the Fourth Circuit in support of Virginia's definition of marriage as the union of one man and one woman. The case is Bostic v. Schaefer. Previously, U.S. District Court Judge Arenda Wright Allen of Norfolk struck down the provision in Virginia's constitution that affirms marriage as the union of one man and one woman - a provision strongly endorsed by the Virginia bishops and approved by more than one million voters in a 2006 ballot initiative.
In Testimonium...
Happy Easter!
The tomb is empty!
The Lord is risen!
Death is vanquished!
Sin is conquered!
Eternal rest grant unto them...
Albert Coppola, Sr.
24 Oct. 1924 - 29 Dec. 2013
John T. Beaver, Sr.
23 Jan. 1932 - 15 Jan. 2014
Joseph Milford
8 Dec. 1928 - 20 Jan. 2014
Tom Russo
19 Feb. 1953 - 24 Jan. 2014
Jackson Kemper, Jr.
8 Feb. 1935 - 6 Feb. 2014
Suzanne Abbott
29 Jun. 1916 - 9 Feb. 2014
Jandarc Silva Loch
1 Feb. 1924 - 12 Feb. 2014
Lt. Col. Homer Steinhoff
15 Jan. 1923 - 14 Mar. 2014
THE STATE OF THE COMMONWEALTH
Visit the newest section of St. John's website, The State of the Commonwealth:
The Good Word: Papal Teachings of the last century on Natural Law, the Social Order and the Common Good.
The Our Heroes: News stories about the persecution of the Church locally and internationally.
The Good News: News stories about Catholics who are winning over the culture, whether through the spiritual and corporal works of mercy, through public service or otherwise.
Our Governments: A listing of all the elected officials (County, State, Federal) whose constituents include residents of our parish boundaries.
Archived Events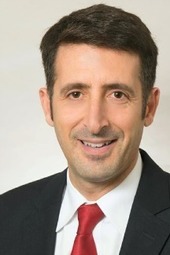 Sunday, February 23
Lecture on "Church Teaching on Economic Life"
Andrew Abela, Ph.D.
Dean, School of Business & Economics
The Catholic University of America
→ Watch the event online here.
FORTY HOURS DEVOTION: Sunday, March 16th - Tuesday, March 18th
The Reverend George William Rutler, S.T.D.
Priest of the Archdiocese of New York
Pastor of St. Michael Catholic Church
SUNDAY 16 MARCH
7:00 p.m.
Solemn Evening Prayer
Homily by Rev. George Rutler
MONDAY 17 MARCH
9:00 a.m.
Holy Mass
Homily by Rev. George Rutler
7:00 p.m.
Evening Prayer
Homily by Rev. George Rutler
TUESDAY 18 MARCH
9:00 a.m.
Concluding Holy Mass
Homily by Rev. George Rutler