EVENING REFLECTIONS FOR WOMEN 2016-2017 Series
"Feminine Genius"
St. John Paul II and his idea of the "feminine genius", what it means, and how it informs us today by Dr. Margaret McCarthy, Assistant Professor of Theological Anthropology, Pontifical John Paul II Institute.
MONDAY, OCTOBER 3
7:00pm Social
7:30pm Talk
In the Adult Ed Room
Sponsored by St. John the Beloved Women's Council. Please RSVP to: [email protected]
The 2016-17 Sunday Lectures at SJB
A DISCUSSION ON: PRAYER AND SACRED ART
Featuring: Fr. Lawrence Lew, O.P.
Sunday the 23rd of October
4:00 p.m. in the Parish Hall
Admission is free of charge
Is America Still the Land of the Free?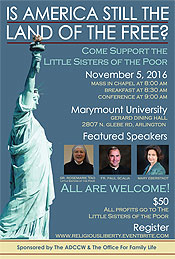 November 5, 2016
Mass in Chapel at 8:00 am
Breakfast at 8:30 am
Conference at 9:00 am
Marymount University
Gerard Dining Hall
2807 N. Glebe Rd
Arlington, VA
Featured Speakers:
Sr. Rosemarie Yao, Little Sisters of the Poor
Fr. Paul Scalia
Mary Eberstadt
Register at www.religiousliberty.eventbrite.com
Cost: $50. All profits go to The Little Sisters of the Poor Featured Speakers
Presented by The Arlington Diocesan Council of Catholic Women
In Testimonium...
The special prayer for peace
"Lord Jesus Christ, who said to your apostles 'Peace I leave you my peace I give you' look not on our sins but on the faith of your Church and graciously grant her peace and unity in accordance with your will, who live and reign for ever and ever. Amen."
which in the Extraordinary Form of the Mass the priest prays in a low voice immediately after the Agnus Dei and in the Ordinary Form of the Mass he prays out loud immediately after the Pater Noster made its appearance since the eleventh century, first of all in German territory. It replaced an older prayer for peace. From then on it recurred regularly, even in Italian Mass plans, and thus was introduced into the Missal of Pius V.
Eternal rest grant unto them...
Year of Mercy Confessions
Beginning on December 2 during the first Week of Advent, the priests of St. John the Beloved will be hearing extra confessions on Wednesdays. On the hour every hour between 10 a.m. and 6 p.m. a priest will be in the confessional and stay as long as there are penitents. One day we will have green lights to indicate an available confessor. In the meantime please look for the white light glowing through the window.